LUNCH AT CR GIBBS
CR Gibbs opened, way, way back in the 1970's as a sort of sophisticated pub-for-Americans. Back then the never-ending shrimp bowl was the attraction - a large bowl with a mound of cracked ice, topped with shrimp in the shell. It was presented as the
amuse-bouche
at every dinner. Presumably the shell was to slow down those diners with the constitution of a shrew.
Over the years Gibbs has changed to keep up with evolving fashions in food - pub, then sports bar-cum-restaurant, and now California cuisine, complete with open kitchen. This to M. de Joie's mind is the most successful of the incarnations thus far, especially with the pleasant patio dining area. Behind the vine-covered fence, one can (almost) forget they are steps away from Hilltop Drive. Service is always friendly and helpful, though sometimes a bit rushed - be sure to ask what the specials are, as they sometimes forget to tell you.
M. de Joie enjoys an occasional lunch at CR Gibbs; they seem to her to be a better value than the dinners. She would altogether rather forget the time she enticed Amico del Signore to Sunday brunch there; it reminded them of an episode of
Wild Kingdom
that featured a pack of dingoes dining on wildebeest at the watering hole.
On not-too-extreme days and in the evenings, the patio is enjoyable and more casual than the dining room. Misters keep the heat tamped down to a bearable level.
.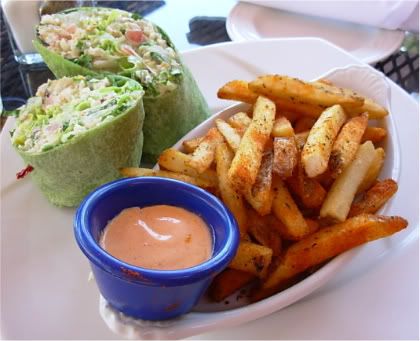 .
California Club Wrap - turkey, bacon, fresh salad greens, ranch dressing, avocado, tomato and grated cheese, in a spinach flour tortilla - with side of Cajun fries, $10.95. One great thing about CR Gibbs: waitstaff are happy to make substitutions. Normally the Club Wrap comes with multi-colored tortilla chips and an addictive-but-fiery Serrano pico de gallo; but when M. de Joie ordered a side of fries, they were substituted for the chips at no extra cost. The Wrap is perhaps M. de Joie's favorite item on the lunch menu - everything from a club sandwich wrapped up with ranch dressing. And the Cajun fries (with the spicy mayonnaise) proved to be just as fiery as the pico de gallo - a great combination of a cool, creamy, crunchy sandwich with hot, tender fries.
.
.
BBQ Pulled Pork Pizza - layered shredded pork, "pizza cheese" (what would that be, exactly?), Chipotle/Ranch BBQ sauce, purple onion, roasted red bell pepper, fresh cilantro and sliced jalapeños, $11.95. The BBQ pulled pork pizza was one of the best things M. de Joie has ever had at CR Gibbs. It was indeed spicy-hot with jalapeños, but not eye-weepingly so, and the flavors/textures complemented each other beautifully. While Mlle. de Joie is a thin-crust gal, this puffy crust out of the brick oven was flavorful and chewy enough to stand up to the heavy toppings. Indeed, all the pizzas at Gibbs are worth ordering, including the Greek pizza.
Also good at lunchtime are the salads - though the portions seem a bit scanty, they are unfailingly crisp and flavorful, with delicious combinations of ingredients paired with dressings, such as the Mediterranean Salad - greens, imported olives, artichoke hearts, cucumbers, sun-dried tomatoes and red onion with balsamic vinaigrette, topped with Feta cheese.
CR Gibbs features fish tacos at lunch for $11.95, but they have always seemed bland and somewhat mushy, like what a Mexican restaurant in Liverpool might turn out. The black beans and white rice are the best thing about the taco plate. And the Cajun-Asiago Cheesburger was overwhelmed with salty Asiago cheese - so much so that M. de Joie had to scrape the cheese off in order to taste the burger, which had a slightly burned flavor.
Two soups are always on the menu in addition to the soup of the day - baked onion soup at $6.95 and chicken tortilla soup for $7.95. Ordering baked onion soup in a restaurant has usually made M. de Joie wish she had thought to bring scissors with her to cut through the gummy mass of cheese pantyhose; this one is no exception. The chicken tortilla soup is a better choice - lighter but flavorful and packed with vegetables.
Currently CR Gibbs is featuring the "Re-Stimulus Menu" with marked-down items renamed for the recession - "Gas Price Fries - Who knows what the price will be today...take a chance! Choice of Cajun or Garlic-Pesto..." "Ford's BLT Fried Egg Sandwich - Our very special BLT (bacon, lettuce and tomato)on wheat bread with Mayo, two fried eggs and cheddar cheese...Slam! Bam! Whooo! Roll out that new model! $5.99." Sure, it's a gimmick, but it works, and the public seems to be responding favorably.
If you're downtown, CR Gibbs doesn't necessarily rate a drive out Cypress Avenue at noon - not much does - but if you're in the area at lunchtime, stop by. Saturday lunch is more relaxed than weekdays too, especially if you don't have to get back to the office right away.
- Femme de Joie
CR Gibbs, 2300 Hilltop Drive, Redding, in the Best Western Hilltop Inn. 530-221-2335. Cash, credit/debit cards. No checks. Cocktails, beer and wine. Open daily for lunch and dinner; Sunday brunch 10 AM - 2 PM. Live music on weekends. Parking on-site. Website at http://www.crgibbs.com/