NICK'S BELLA VISTA GRILL
.
What is patriotism but love of the food one ate as a child?
- Lin Yutang
The best pastrami sandwich Mademoiselle de Joie ever ate was at a long-closed burger joint called Jan's Frost Shop. It was on Placer Street near Court, in the tiny building most recently vacated by Willie's Famous Chili Dogs. The owner was a short bald man of indeterminate age, sweaty and hairy like Harry Goldenblatt on
Sex and the City;
he addressed everyone as "sweetheart" and turned out the most fabulous hot pastrami sandwich and French fries in the world. The pastrami was on rye, of course, with plenty of fat still in the meat so that during the grilling process the fat melted and oozed into the bread - which already had picked up ample grease from the grill. The French fries were cut from potatoes right there in the grill; you got an enormous serving of greasy, salty fries that were too hot to touch right away. It was a cardiologist's nightmare.
Jan closed up shop long ago and ever since then M. de Joie has looked for a suitable replacement for the Pastrami Of Her Dreams. The old Italian Cottage on Hilltop came close, but other than that, it's been a disappointing search. Even Perry's on Union Street in San Francisco - a replica of a New York bar and grill - served a remarkably plain and uninspiring pastrami, along with some very, very odd potato salad.
So when Mlle. de Joie passed by Nick's Bella Vista Grill and saw this sign, she decided to make it her business to stop in.
.
You order at the window to take to your car or eat on the patio; there is also a small dining room with wooden tables and booths where a waitress will take your order.
.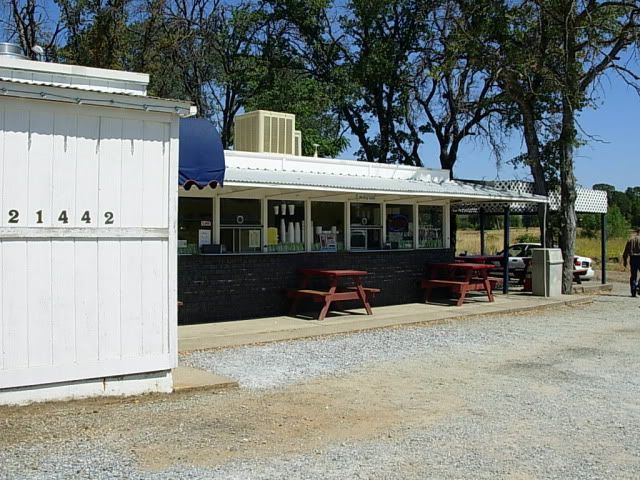 .
.
On the day she visited, M. de Joie was more in the mood for a burger, so that is what she ordered, and she was not at all disappointed.
.
.
Double cheeseburger, fries, medium Pepsi - $8.42.
The patio tables are covered with red vinyl tablecloths that had been cleaned quite recently.
The burger was excellent - juicy and full of flavor, served with "the works" (as the menu indicates), and on a bun that did not disintegrate and fall apart in a squooshy mass. Fries - not out of a freezer bag, these were cut at Nick's, with the skin left on, hot and very crisp. A+.
Another day, M. de Joie returned to try the advertised hot pastrami. A thick serving of thin-sliced pastrami on a French roll, plus Gems and a soda, came to $9.93. It shoud have been good - but the pastrami lacked flavor and was dry. Mlle. de Joie pondered this for a while, and then recalled Ring Lardner:
"....if it is home runs that the public wants to see, why leave us give them home runs..."
If the public wants lean pastrami, why leave us give them lean pastrami. For years now it has been well-nigh impossible to find marbled pastrami because the public asks for lean meat. Fat carries flavor and moistness; absence of same leaves meat dry. Hence: dry pastrami sandwiches.
So the pastrami didn't turn out well - still, Nick's makes a wonderful burger and fries. Stop in and give them a try.
- Femme de Joie
Nick's Bella Vista Grill, 21442 Highway 299, Bella Vista (across from Bella Vista Feed and Ranch Supply). 530-549-3042. Open Monday-Friday 11:00 AM to 7:00 PM, Saturday and Sunday 11:00 AM to 4:00 PM. Cash, credit and debit cards. No checks.