Ono Store and International Cafe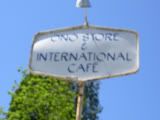 So you were out driving with the family on your staycation, telling them, "We're going to discover America! We'll start in our own backyard!" The kids stayed in the backseat, content to text their friends telling them how boooorrrrred they were while their ears were plugged into iPods, damaging their hearing and rotting their brains with the latest download from Biggie Lil Noize JJ. Now they've started poking each other surreptitously and whining they're starrrving and they're so booorrrrred. By now you realize that wherever the hell you are, it is no longer on the City of Redding map. It's been thirty minutes since you saw a stop light or even a stop sign. The only cars passing you are pickups with gun racks in the rear window and large slobbering dogs (dingoes?) with long yellow teeth hanging over the tailgate.
You slow down approaching Ono - "Ono? Where the hell are we?" and your wife murmurs for the sixth time in fifteen minutes, "Maybe we can pull over and ask someone how to get back to Spiny Gopher Estates." There's the sign, Ono Store and International Cafe, which you decide is either someone's idea of a cruel joke or you really are in the Twilight Zone - and you reluctantly pull in (parking next to a rusty pickup with two dingoes chained in the back) and go in to ask directions. Of course the kids all pile out too and your wife decides to "get out and stretch" because you're never allowed to ask directions by yourself, and "maybe as long as we're here we can get a bite to eat."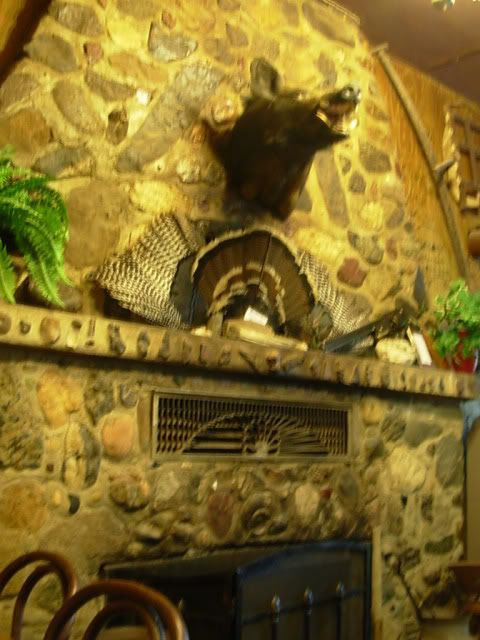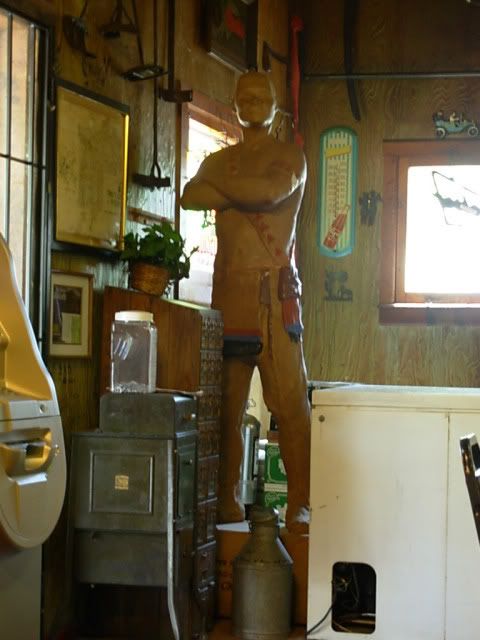 Tom Smith and Lorriane "Lennie" Copeland took over the Ono Store in December 2006. Tom's a North State guy. He's been a pilot, farmer, oil-driller, trucker; he's gregarious and handy at fixing things. Lennie has a more exotic resume (Google "Miles Copeland"), wrote two best-sellers, made movies/wrote screenplays, and she loves small towns. Neither had any experience running a store/cafe, but they learned The Secret Of The Homemade Hamburger Buns from the previous owner, and went to work. They changed the name from the prosaic Ono Store to the more ambitious and mystical "Ono Store and International Cafe," cleaned the place up without disturbing the atmosphere, and started flipping burgers.
Sit on a duct-taped vinyl swivel chair at the counter and order up, or plop down at a wooden table and they'll come take your order. While you wait, wander through the store and look at the old photos, the rattlesnake skin and the scorpion, the old rusted farm tools, the business cards and dollar bills thumbtacked to the ceiling. There's nearly always some sort of artsy-craftsy item for sale. The other customers are usually all locals, though Tom can tell you about the random Spanish tourists or the Danes wandering in.
And the burgers are what everyone comes here for. Oh, you can get breakfast, a BLT, or a cold beer, pick up some pepperoni jerky, Annie's Organic Macaroni & Cheese, a bag of dog chow and a couple of bungee cords, or refill your BBQ propane tank, but the burgers are the draw. Tom - he's the guy in the chef's toque - makes the hamburger buns every day. [ Note: Tom and Lennie will soon start producing and selling Wilda's Mustard (made by the former owner of the Ono Store, it's been discontinued for some years and sorely missed)]. Burgers are cooked to order, as are the fries (one order is enough for two), onion rings, Jalapeno poppers, and all the other menu items. Yeah, you can get a veggie burger or chicken burger too (ask about the "Shit Yea Ranch" for $10) .
Well, what about the food?
This is not chain restaurant food. Tastebuds accustomed to the overly-sugared "enriched" yellowy buns, sweetened condiments and "seasoned" (read: salty) hamburgers, kept warm and soft under a heat lamp at a fast-food franchise, may be shocked by the seeming blandness and simplicity of the food at Ono Store. No prize or toy comes with your food. This is the real deal: unadulterated food cooked to order and served simply, standing alone on taste, not marketing. I have it on good authority that the only hamburger in the North State that might top an Ono Burger is the one to be had at Burger Hut in Chico.
The Ono Store and International Cafe is a slice of small-town Americana right here in Shasta County's backyard. If the traffic and noise on Hilltop and Dana and Cypress are driving you over the edge, go now and see what you've been missing.
Ono Store and International Cafe, 11851 Platina Road, Ono, CA . 530-396-2300. No credit/debit cards; cash and local checks only (ATM available). Beer and wine. Small parking lot.
- Femme de Joie