Jeff's California Cattle Company Keeps 'em Coming Back for More
Entrepreneur Jeff Garrett started small: at a tender age he invested his money in the In-Dog-Nito on Hartnell (now Rita's). From there he learned what local folks want: a clean, well-lighted space in which to enjoy well-prepared, classic American dishes with a country and/or western flair. To that end, he's the man responsible for the success of mini-chain Lumberjack's, Cool Hand Luke's, and Jeff's California Cattle Company.
The Cattle Company took over the space vacated years ago by Arby's on Cypress Avenue. Open daily for breakfast and lunch, it's more of a coffee shop than steakhouse, with a variety of well-prepared familiar dishes to appeal to most tastes. Situated a couple of blocks from the I-5 exit, and thus not really on the traveler's radar, Garrett has to appeal to local repeat customers to make a go of it, and he's done well in that respect. Fair prices and portions, combined with prompt but not rushed service, keep 'em coming back.
Femme de Joie had avoided visiting for a long time because she feared Jeff's was piggybacking on Arby's, but this was not the case. This is not at all a fast-food joint. Everything is cooked to order and mostly made in-house. There's no rush to get your food and get out: it's comfortable and friendly inside.
Decor is in a mixed bag with mauve paint and some western-themed knicknacks and photos in the standard booth-and table interior. There are three televisions tuned to the country music video channel (sound turned down).
There's always someone in your party who's on a diet, so there's a nice selection of salads available at the Cattle Company, as well as a salad bar. This Southwestern chicken salad wasn't just thrown together as an afterthought: the greens were fresh and crisp and the chicken was tender and moist, with plenty of avocado and tomato as well. No one would feel deprived ordering this instead of a burger.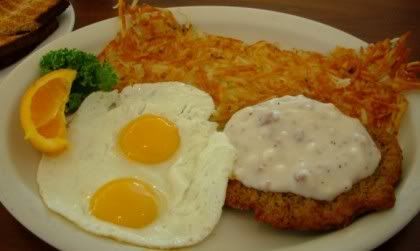 Breakfast is a big draw and the chicken fried steak is a good example of why. Chicken fried steak isn't diet food under the best of circumstances, but some versions are greasier than others. This wasn't like that: Not at all gristle-y or greasy, a good-sized portion of breaded steak came with potatoes, eggs, and toast - the usual accompaniments.
The standard bearer at Jeff's: a 1/2 pound cheeseburger with potato salad on the side, a coffee shop staple. Jeff's version isn't breaking any new ground, but that isn't what this place is about: simple food done right. The mild-flavored potato salad was house-made and the burger was cooked exactly to order.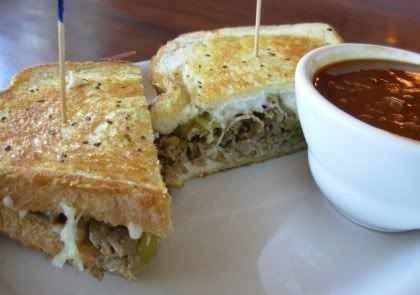 Jeff's lunch menu includes a fair selection of sandwiches, and this was a good one: thin-sliced beef with pepper jack cheese and Ortega chilies on grilled sourdough. The sweetish barbecued beans on the side were made in-house.
Jeff's California Cattle Company isn't a hipster joint or white-linen dining. This is simple coffee-shop standards served by cordial waitstaff at a good price. Come here for breakfast or bring your out-of-town guests here for lunch. You won't be disappointed.
Jeff's California Cattle Company, 400 E. Cypress Avenue (at Grove), Redding 96002. 530-221-3572. Open 7 AM to 3 PM daily for breakfast and lunch. No alcohol. On-site parking. Vegetarian options. Cards, no checks.