Redding's Tokyo Garden Japanese Restaurant
Of necessity, sushi restaurants are usually quite small, little more than a mini-van's worth of seats. It takes time to turn out sushi and it does not lend itself to sitting around like McWhoppers, so the number of diners allowed in has to be limited. And this is not a food that can be turned over to summer job seekers: sushi chefs in Japan train for years before they ever lay knife to fish, though in America a 12-week course suffices.
There are numerous restaurants around town that attempt to combine several Asian cuisines with varying degrees of success. Now and then Femme de Joie has picked up a comely slice from a sushi roll to discover that what she is tasting is less like a delicate scallop roll than it is more like Nigiri Fish Bait.
A big reason for Tokyo Garden Japanese Restaurant's continued success is sticking to Japanese cuisine. The kitchen is focused and not so spread out with Cajun teriyaki or soba marinara that the purity and essence becomes dilute.
Tako salad, $5.95
Tako salad ($5.95) is a great way to find out if you like octopus. If you didn't know, you might think this was bits of sweet, chewy squid. Tokyo Garden's version makes a terrific appetizer with loads of piquant ginger and strips of seaweed. If you're unsure, share this with a friend, but this little salad is enticing enough to keep to yourself.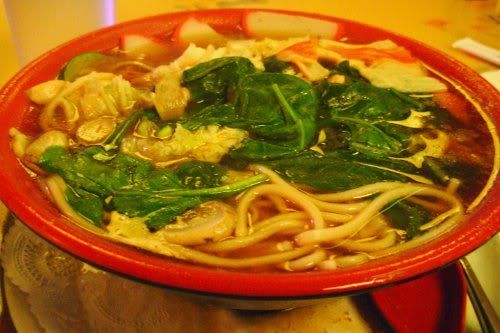 Seafood noodle soup ($11.95 made with soba, $1 extra for udon noodles)
Femme de Joie had this on a blustery cold afternoon and it was just the ticket - a savory-sweet broth filled with soba noodles and a surfeit of scallops, fish, vegetables, and shrimp. Though the fish was overcooked, the rest was perfect and tender. The serving was much larger than the photo indicates and it isn't a speedy meal to eat - you want to take your time to enjoy every bite, or you'll wind up with a splattered shirt front.
Bento box lunch special #5 ($7.95) with beef teriyaki, assorted tempura, California roll, salad, and rice
Assorted tempura included fresh mushrooms, asparagus, and shrimp in a fragile-crisp non-greasy batter. Creamy avocado dominated the taste in the California roll - the "crab" taste was lost. Though the steak was tender and had good beefy flavor, the teriyaki sauce had a weird glutinous mouthfeel and a slightly off taste.
Spicy tuna roll, mackerel roll (saba), Crazy Monkey Roll
After Femme de Joie had spent a few months trying sushi at different restaurants around town and being disappointed, Tokyo Garden really delivered. The fresh clean taste of tuna came through. Fresh beads of masago (smelt fish roe) that popped in the mouth accented the rice and spicy sauce gave it a kick. Oily mackerel can either be overpoweringly fishy or bland, depending on how it was cured, but this version had a pleasant taste of the sea and texture. Crazy Monkey roll (snow crab, imitation crab, avocado, cucumber, topped with unagi (freshwater eel), masago, and special sauce) was almost as delightful to eat as it was to order: none of the tastes dominated or concealed the others. Each bite had a slight cucumber crunch that then melted into the softer crab and avocado.
If you're not of a mind to wait for a seat at one of the sushi bars around Redding or you aren't quite sure about whether you like sushi, Tokyo Gardens offers a more Americanized option. There are menu choices that will appeal to the fishphobic and more adventurous palates alike. Though fresh fish of a quality for sashimi and sushi is not cheap (do you really want to eat day-old discount salmon?), lunch specials start at $5.95, so there's a little something for everyone here.
Tokyo Garden Japanese Restaurant, 1675 Hilltop Drive, Suite M, Redding CA 96002. Phone 530-221-6888, fax 530-221-5168. Open 7 days a week from 11 a.m. to 9:30 p.m. Lunch served from 11 a.m. to 4 p.m. Cash, cards, no checks. Beer, wine, sake. Sushi bar. Loads of parking. Vegetarian and vegan options. Website at reddingtokyogarden.com.