Old Millhouse – A Short Drive to a Lovely Locale
Femme de Joie isn't sure if the Redding Old Millhouse Deli was ever really an Old Mill. She does recall in the late 1970s when she'd drive by on her way to Brandy Creek, Barry White's Love Unlimited Orchestra playing on the 8-track, and seeing the mystifying Shufflin' Beaver sign out front. There were whispers about what kind of a place that was and being a hopelessly naïve young gal, M. de Joie never darkened that door, which she now deeply regrets.
Since those days, Old Millhouse Deli has become more decorous, if not quite mainstream. Situated barely half a mile west of Buenaventura on Eureka Way, it decidedly feels more Old Shasta than Redding. The interior is rustic wood with oddments of gourds, 20s-style wall paintings, and hackamores hanging on the walls. The spacious back room has a panoramic view and there's a pleasant patio for dining outside and large lawn available for parties, weddings, etc. Occasionally there's live music, as evidenced by the instruments set up.
Old Millhouse's menu is casual, mainly sandwiches and salads, with an occasional special like lasagna thrown in. Most of the food is good but sometimes the portions aren't in keeping with the price.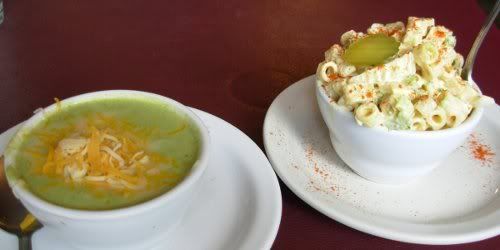 Cream of broccoli soup and macaroni salad, $3.75 each
Side dishes are generous - for $3.75, they should be - and freshly prepared. The cream of broccoli soup was smoothly wonderful with good broccoli flavor in a light creamy base, topped with a sprinkle of shredded cheddar and Monterey jack cheese. Macaroni salad would have been delicious if it had been made with real mayonnaise instead of Miracle Whip (M. de Joie is aware many people love Miracle Whip but she is not one of them).
Laurie's deluxe french dip, $9.25
Laurie's Deluxe, $9.25, a French dip with cheddar, jack, red onions, and chopped Ortega chiles on an onion roll. The sandwich was hot and freshly made with tasty ingredients, but onion rolls being the size they are, there wasn't a lot of it.
Old Millhouse Deli double deluxe spinach salad, $9.25
Double Deluxe Spinach Salad, $9.25, was topped with avocados, crumbled blue cheese, tomatoes, bacon bits, hard-cooked egg, cheese, tomatoes, and croutons on a thin bed of fresh spinach, vinaigrette on the side. Again, what was there was fresh and tasty and attractively composed, but it really wasn't a full meal salad.
Sides of potato salad and clam chowder, $3.75 each
Sides of potato salad and clam chowder, $3.75 each. These were very good - the hot chowder was comforting on a cold rainy day. Potato salad, accented with bits of celery and pickle and made with mayonnaise, was a good accompaniment to a sandwich.
Triple-decker club, $9.25 with soup or salad
A triple-decker club was good value for money - plenty of turkey, avocados and tomatoes on toasted wheat, with a choice of soup or salad for $9.25.
Old Mill Deli lasagna, $9.75 with soup or salad
Lasagna was a lunch special for $9.75, including soup or salad. It looked and smelled good was but disappointingly bland, with squashy overcooked noodles and not much flavor from the cheese and meat filling.
On the one hand, Femme de Joie loves the atmosphere at Old Mill Deli. On a cold rainy day it was warm and inviting inside, where a customer could sit in the back by the windows and listen to the rain, almost feeling like she was in a cabin at the coast. During good weather, it's very pleasant to sit at a table in the garden and enjoy the shade of Japanese maples. There's a good beer and wine selection, and it would be most enjoyable to sit with friends and have a drink or two in this relaxing café. Service is friendly and quick. On the other hand, some of the prices are a bit high for the portions served, and some of the food could be better.
Still, this is a unique local place and worth the short drive to have lunch. It really isn't far from downtown Redding and you could find yourself calling back to work - "Yeah, got a flat tire. I'll be back at the office in an hour … or two."
Old Millhouse Deli, 4478 Eureka Way, Redding, CA 96001. 530-241-9011. Open Monday-Friday 10:30 am - 2:30 p.m. for lunch, 5 p.m. - 9 p.m. Friday and Saturday nights for homemade pizza. Beer and wine. Vegetarian and vegan options. On-site parking. Cash and checks only, NO CARDS.