Burrito Bandito is Fast Mex That Tastes Good, Too
It took Femme de Joie a long time to catch on to Burrito Bandito. For one thing, she didn't have much reason to go out to Airport Road in Redding, where they started at the original location. For another, she didn't really relish the thought of driving all the way out there to be caught in the lunch rush at a place that catered only to the folks who worked out there and didn't have any choice: how good could it be? Then circumstances caused her to be out on Airport Road one day with a group of people who already knew about Burrito Bandito.
When they walked in, M. de Joie winced at the long lines and figured they might all be there until dinnertime, but such was not the case. Those guys behind the counter were friendly but speedy, and in a very few minutes the line was hacked down to size. M. de Joie entertained herself during the brief wait by reading the hot sauce bottles on display – how can you not love a bottle of Jump Up and Kiss Me, Hula Girl, or Scorned Woman?
M. de Joie was very pleasantly surprised at how much food was dished up for a modest price, and delighted at how great the burrito tasted, made to her specifications and packed full of fresh toppings. She was even more pleased when a few years after that initial lunch, Burrito Bandito opened a branch in the Holiday Market Shopping Center at Placer and Buenaventura – much closer to downtown than Airport Road (since joined by branches in Anderson and Red Bluff). The Holiday location is small inside, with a few tables and counter seating along the window; on nice days you can take your order outside to a table on the sidewalk.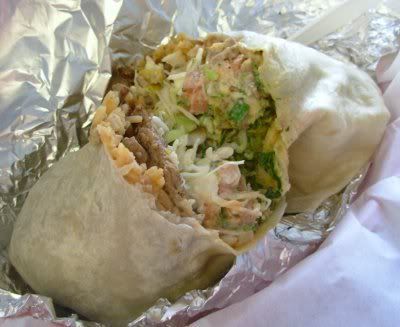 Chile verde burrito, $7.25
Burritos are, of course, their signature dish, and they're the most bang for your buck. Choose from machaca (shredded beef), carne asada, chile verde, chicken, or vegetarian/vegan beans, have the counterman add toppings to taste, grab a cold drink from the cooler and some salsa, and have a seat. Good luck trying to eat this with the plastic fork they give you.
One pork taco and one chicken taco, $3.25 each
For smaller appetites, the tacos are a good bet: same drill as the burrito (choose meat or beans and then tell the friendly counterman exactly what you want to top it with). Warning: these get soggy and fall apart if you don't eat them promptly, and Femme de Joie has the salsa drippings down her blouse to prove it.
Vegetarian bowl, $7.25
A nice change from tacos, burritos, and quesadillas is the bowl: a salad made with your choice of meat or beans with loads of toppings. Though M. de Joie loves her a good burrito, she likes the bowls the best out of all the offerings at Burrito Bandito.
If Femme de Joie has any complaints, it's that after a while everything from Burrito Bandito starts to taste the same, which is probably because she's a "Put everything on it" gal, and everything is always the same. To avoid getting bored, now and then she'll skip the onions or the rice and ask for extra cilantro and lime, or some other variation.
M. de Joie likes the value for money, fresh ingredients, fast & friendly service, and tasty burritos, all served up by a local business. To be sure, Burrito Bandito is fast food, but there's not a Golden Arch in sight here. It's not authentic Mexican either; it's more of a California twist on healthy Mex with a little fast-food-to-go thrown in. If you haven't stopped by already, give them a try.
Burrito Bandito, 8939 Airport Road, Redding, 222-6240, fax 222-6639; 3365 Placer Street in the Holiday Shopping Center, 229-9068, fax 229-9079; 2805 E. Center Street, Anderson, 378-1400, fax 378-1500; 525 Adobe Road, Red Bluff, 528-8226, fax 527-6074. Cash, cards; no checks. Call for opening times (may vary between locations). Vegetarian and vegan choices. Website and fax order form at juanmeanburrito.com