Menuplease: Buz's Crab Stands, But Doesn't Deliver
It was 1968 that Buz's Crab Stand opened for business in a slightly grotty location between a dry cleaner's and Safeway. Back then, after placing an order, customers had to keep one ear peeled for staff yelling through the noisy restaurant that their order was ready. The menu was short and sweet: fish and chips, a few broiled fish dishes, clam chowder. Though they claim to be a "funky fish joint," nowadays Buz's is more genteel and calculatedly funky than in their early days. The amount of available seating has expanded and servers now bring food to your table. You still order at the counter -- usually standing for a few minutes reading the enormous menu board behind the cashier -- and get your own non-alcoholic drinks, but now diners are given a table marker saying Swordfish or Halibut to ensure food is delivered to the right table. Service has been friendly and prompt.
Buz's menu has expanded wildly since those early days, which may appeal to a broader demographic with more adventurous palates than was had forty-some years ago, but very often the execution is uneven and disappointing. There doesn't seem to be one chef overseeing operations and ensuring consistency. Pastas, wraps, fish burgers, Southwestern, Cajun, cioppino, Mexican, fish kebabs, grilled/fried/broiled -- Femme de Joie feels that while trying to please every taste, the kitchen has spread itself too thin.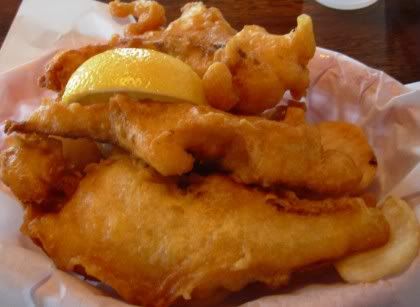 The signature dish at Buz's, fish and chips, $7.75. The batter was crisp but bland; the fish was fine the first few bites while still warm from the fryers. After that it became apparent the fish inside was dry and overcooked. Chips -- which appear to have been pre-cooked en masse and kept warm; they certainly are not freshly fried -- are under the fish so any crispness they might once have had is steamed out by lying under the hot filets.
Crab chowder,$5.49. This rich and creamy soup was filled with new potatoes and loads of crab. Unfortunately, the delicate, sweet crab taste was lost due to a heavy hand with dried herbs.
Salmon bisque was much more successful than the crab bisque; the stronger flavor of meaty salmon chunks stood up nicely in a not-too-creamy base.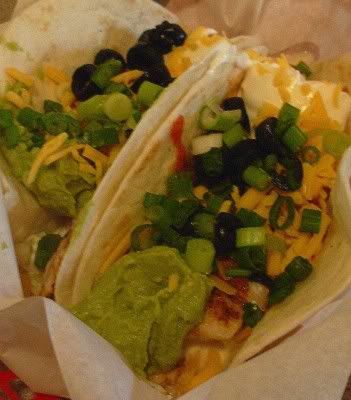 Two fish tacos supreme. Nuggets of deep-fried fish were crunchy but tasteless and covered with guacamole from a jar, cheese, olives, salsa from a jar, scallions, and a very runny creamy sauce that saturated the flour tortillas and eventually made the entire taco a soggy mess.
Open-faced crab sandwich on sourdough was one of the better offerings: lots of hot crab under a not-too-heavy coat of melted cheese on a thick slice of sourdough. The sweet crab -- mixed with bits of celery -- came through nicely and the sandwich was kept hot on a metal platter. There were plenty of those soft, pasty chips on the side.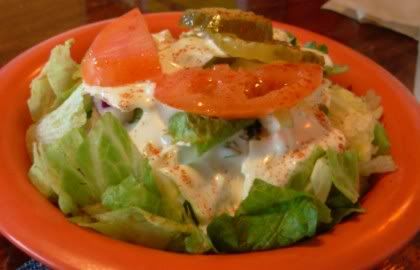 The best thing Femme de Joie had at Buz's: a fresh green salad.
Generally, M. de Joie doesn't care much about presentation as long as the food is good. But when she pays a fairly hefty price for lunch and then finds the food isn't all that wonderful, she starts to notice things. For instance: a $5.50 cup of soup served in a plastic bowl, runny and drippy tacos served in a plastic basket with a sheet or two of paper to keep the flood from spilling onto the table, cheap plastic forks. It wouldn't be so noticeable if other restaurants did the same thing, but if you're paying sit-down prices and getting takeaway plastic and paper, you start thinking about whether you're getting the best value for money.
EDIT:
Buz's has closed as of September 2012. R&R Meats has purchased the building and will turn it into a seafood market.
Buz's Crab Seafood Restaurant and Market, 2159 East Street, Redding, CA 96001. 530-243-2120, fax 530-243-4310. Open Sunday-Wednesday, 11 AM - 8 PM, Thursday-Saturday 11 AM - 9 PM. Seafood market open Sunday-Wednesday 9 AM - 8 PM, Thursday-Sunday 9 AM - 9 PM. Beer and wine. On-site parking. Cash, local checks, cards. Overnight delivery of fish via FedEx; see website for details. Website at http://www.buzscrab.com/index.php