Menuplease: Out of Town for New King Tin
Last June while wandering through San Francisco's Chinatown, Femme de Joie and Amico del Signore stopped in at Vital Tea Shop (see
here
for details). We bought some tea and on our way out, asked Jason, the proprietor, for a recommendation on a good place to eat. When he asked us, "What do you feel like having? Malaysian, Vietnamese, Szechuan, Hunan, Korean, Cantonese, seafood?" we knew we had asked the right man. We said we wanted simple Cantonese food, and he directed us around the corner and up Washington half a block - "Look for the ducks in the window."
We eagerly hiked up half a steep block and walked into New King Tin. There were Peking ducks hanging in the window; to the right of the cash register a man worked patiently turning out won tons, chopping ducks, making fish balls. Before us was a large nondescript dining room with worn linoleum and unadorned Formica-topped tables; fish tanks bubbled in the back with live lobsters, crab, catfish and cod; and tables full of Chinese families were noisily and eagerly tucking into dishes with aromas that made us weak in the knees.
Though we couldn't read them, the presence of hand-lettered signs in Chinese told us we were in the right place.
Since that first visit a year ago, we've made three more stops at New King Tin. Yeah, it's
that
good. We've sampled a variety of dishes from the menu and we might have to visit about fifty more times to try everything, but that is a challenge we're willing to take on.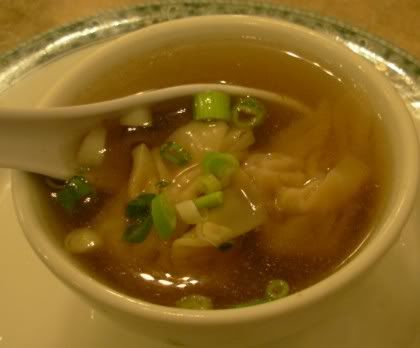 Won ton soup - the won ton filling is made fresh on the premises, unlike many restaurants that order bulk filling (along with pre-chopped egg roll filling). The mixed pork and chicken broth makes this an especially rich version.
Those ducks in the window aren't just for display. A generous order of star-anise scented roast duck set us back just $7.95 - tender, juicy, and meaty, this was enough for two people as part of a Chinese dinner.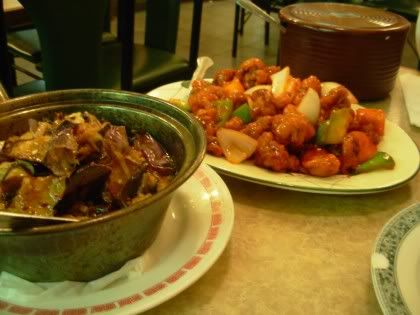 Hot and spicy braised eggplant ($6.95) and sweet and sour pork ($8.95). Asian eggplants sliced and braised with hot dried chilis and pork were filling and meaty in texture. The sweet and sour pork was luscious: cubes of deep-fried pork had a crunchy exterior and flavorful, tender interior with a tangy, light sauce, not sugary sweet but piquant.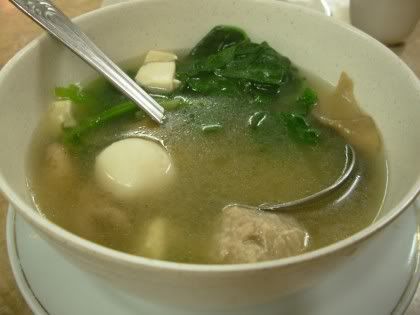 Double meatball soup ($5.50 for enough for two people) had tofu, pork meatballs, and fish balls in a lovely gingery chicken broth with spinach; though it might sound like an odd combination, it worked well. The fish balls did not overwhelm the rest of the flavors but were instead delicately flavored and light.
New King Tin's version of tomato-beef chow mein was light and crispy with deep-fried rice noodles, small bites of steak, and a scattering of fresh vegetables. Not at all salty with soy sauce or oily as so often happens, this was one of our favorite dishes.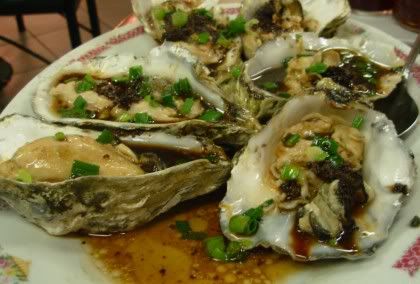 Oysters with black bean sauce ($12.95) were the surprise hit for both Amico del Signore and Femme de Joie. Six oysters in the shell are topped with fermented black beans, garlic, and scallions, and steamed. Briny fresh oysters took on an exotic dimension neither of us dreamed existed - salty, spicy, amazingly plump and juicy. We loved this so much we ordered it two days in a row.
If you're in Chinatown and looking for an authentic restaurant, we can't recommend New King Tin enough. It's not a place many tourists go. It isn't pretty and the restrooms are frankly a little scary. But service was polite, helpful, and prompt, servings are generous, the menu is extensive and inexpensive, the fish could not be fresher, and you'll roll out of there wondering when you can come back.
Edit:
New King Tin has closed. The Washington Cafe has opened in its place.
New King Tin, 826 Washington Street (between Ross Alley and Grant Avenue), San Francisco, CA 94108. 415-368-8088/8188. Credit and debit cards; cash. Open daily 8 AM-12 AM. Beer and wine. Street parking only; good luck. Better to park elsewhere and hoof it, or take Muni; lines 41 Union, 30-Stockton, 45 Union-Stockton, 8 Express, 10 Townsend, 12 Folsom, 27 Bryant, 1 California, and the Powell Street cable car all come nearby. Sample menu at http://sanfrancisco.menupages.com/restaurants/new-king-tin-restaurant/menu