TRADER JOE'S CIBATTA ROLLS
Femme de Joie loves her a good sandwich, the drippier and messier the better. French dip with red onions and pepper Jack cheese, meatball with sauce, gooey chicken salad, Po' Boy with olive salad, even that 70's standby of avocado-tomato-sprouts-cheese… bring it on. But it seems to be well-nigh next to impossible to find a decent sandwich roll: nonsweet bread that has some taste and texture, a decent crunch, and doesn't squash down into a wet cotton ball toward the last bites. Sub and sandwich shops don't seem to offer much beyond the standard soft white-sourdough-or-wheat choices other than maybe Dutch crunch; an ordinary salami-ham-and-Swiss-cheese hero sandwich could be wonderful if served on good bread .
.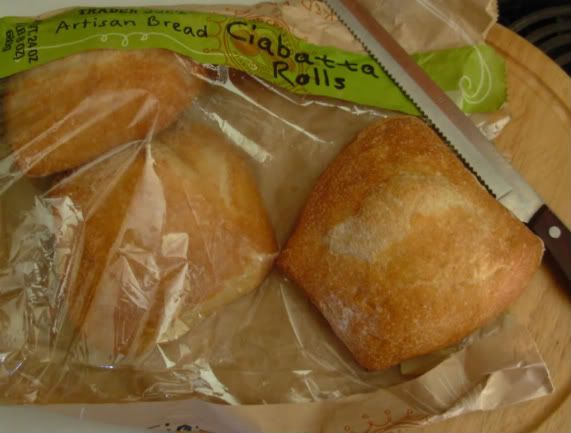 .
Finally, M. de Joie has found Trader Joe's Ciabatta rolls - now these are sandwich rolls. Instead of bread just being the pasty casings to hold the guts of a sandwich together, these rolls are chewy and substantial. Make a sandwich of juicy chopped tomatoes, garlic, olive oil and basil, throw on some fresh mozzarella, pile it on a sliced ciabatta roll - you'll never notice that this is a vegetarian sandwich. These rolls are that hefty and flavorful. Sliced in half, spread with garlic butter and toasted, they make a fabulous accompaniment to pasta.
Trader Joe's Ciabatta Rolls, $3.29 for 24 ounces (about six rolls).