FRIENDS DON'T LET FRIENDS EAT CANNED CRANBERRY SAUCE
April: Well, the cranberries were easy. I just had to open the can.
Eugene: [needing support from his wife] Evette?
April Burns: [sensing Eugene's outrage] What? Oh, come on. Everyone likes it from the can.
Eugene: No one likes it from the can. - Katie Holmes and Isiah Whitlock Jr, "Pieces of April," 2003
The forces of good and evil are at work in this week of Thanksgiving, and the lines are drawn in every household. On the Dark Side we have those who would entice unsuspecting children to indoctrinate them early and set them up for a lifetime of mediocrity. Truth and Beauty, always the underdog, struggles to free the Children of Darkness and help them to see The Light. This eternal war will peak on Thursday as families of all description and compostions sit down at the table to give thanks. The battleground: cranberry sauce.
Femme de Joie has listened to the Dark Side's argument in favor of canned jellied cranberry sauce, and it seems to have four main points:
* It makes an interesting
shploop
sound when it comes out of the can.
* It has the rib marks from the can.
* It slices into rounds.
* Children seem to kind of like it.
Notice anything
missing
from this? That's right, there you go.
Taste.
Nobody ever says it tastes
good.
There probably are people who
think
it does, but they're wrong. Cranberry sauce is something you have to have at Thanksgiving because it just doesn't seem right without it, that little purple glop on the side of the plate to smoosh into the turkey /Tofurky, potatoes, and stuffing, but nobody ever says, "Great cranberry sauce! Another perfect can!"
It's not too late. Fresh cranberries are to be had in every supermarket right now for about two bucks a bag. Stock up: they freeze perfectly. You can fight the Dark Side right at the table. If you think this might be too much all at once, if homemade cranberry sauce is too scary and might cause hysteria and catcalls and throwing of things and weeping, then ease 'em into it. Serve the canned
sugar water
sauce
and
a dish of homemade. Don't be discouraged if at first it doesn't go over. Change takes time.
BASIC CRANBERRY SAUCE
1 bag raw cranberries
1 cup sugar
1 cup water
Combine, bring to boil, cook 5 minutes. Pour into bowl and put in the refrigerator. Keeps at least 1 week. This is an excellent starting point for creativity: spices, chopped fruit, nuts, maple syrup instead of sugar, and so on.
If you'd like to dive in head first, here are two more recipes that are simple to make and will make fabulous sandwich spreads after Thanksgiving.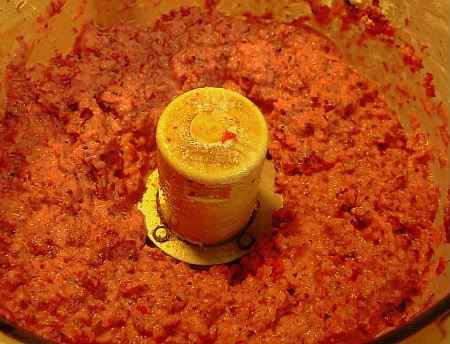 MAMA STAMBERG'S CRANBERRY RELISH
NPR's Susan Stamberg says her mother-in-law got this recipe from a 1959 New York Times clipping of a recipe from the late restaurant critic Craig Claiborne. Think of this as what you might get if a New York deli went a little crazy with some cranberries.
1 bag raw cranberries
1 small onion
3/4 cup sour cream
1/2 cup sugar
2 tablespoons horseradish
Grind the raw berries and onion together. Add everything else and mix. Put in a plastic container and freeze. Early Thanksgiving morning, move it from freezer to refrigerator compartment to thaw. The relish will be thick, creamy, and shocking pink. Makes 1 1/2 pints.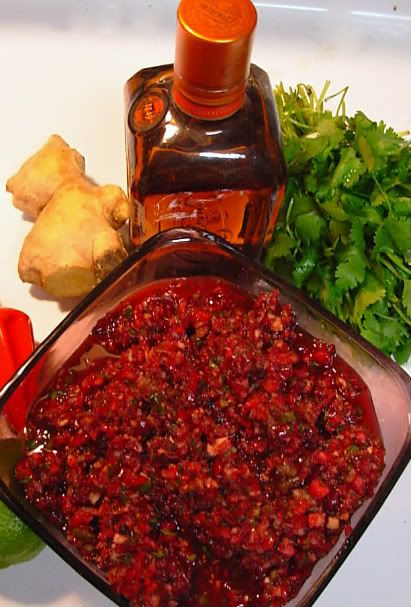 VIVA CRANBERRY
This recipe is orginally from Sunset Magazine and tweaked a little bit - Latino and Asian influences here, spicy and complex.
1 bag raw cranberries
1 fresh jalapeño chili, chopped and seeded
3/4 cup chopped onion
2 tablespoons chopped fresh ginger
1/2 cup fresh cilantro
1/2 - 3/4 cup brown sugar (optional)
juice of one lime (if lime seems dry, use two limes)
1/4 cup tequila
3 tablespoons orange-flavor liqueur
Chop all ingredients in food processor. Store in refrigerator. After one day, taste and adjust to your taste. Makes about three cups. Keeps at least one week in the refrigerator.
Happy Thanksgiving to all.
- Femme de Joie