5 THAIS: THE BEST LITTLE RESTAURANT YOU HAVEN'T EATEN AT
Even a dedicated consumer of double cheeseburgers needs a break now and then. On a recent drab and drizzly day, M. De Joie was in the mood for a bowl of pho, that Vietnamese soup/meal-in-a-bowl with the healing powers normally ascribed to chicken soup, AKA Jewish penicillin. However, M. de Joie was in Barnes & Noble at the time, and it being noonish, she did not feel like fighting the traffic down Hilltop to Cypress. M. de Joie drove south on Canby and found herself face-to-face with 5 Thais Restaurant.
.
.
5 Thais is the second restaurant opened by the owners/operators of Racha Noodle. It occupies the space vacated by TCBY Yogurt in that cramped little labyrinth of a strip mall where Canby runs into Dana Drive. You've been by it - you might have noticed it in the land of chain restaurants, near Chipotles, Strings, Panda Express, and so on and so forth.
.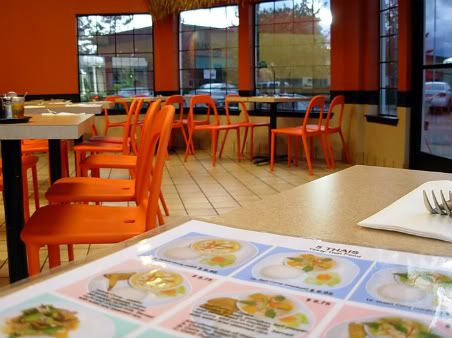 .
.
The decor is minimal, with orange plastic chairs at small formica tables.
When M. de Joie entered, she wasn't sure if she was supposed to order at the counter or sit down, but the friendly Thai waitress directed her to have a seat and brought menus that include photos of the dishes offered. No pho on the menu! M. de Joie heaved a heavy sigh and decided to make the most of the situation, and randomly selected an item off the meni, Khao Soy soup with tofu ($6.95).
.
The menu description:
Khao Soy - noodle, choice of chicken, beef, or tofu, bean sprouts, onion in red and yellow curry with a touch of coconut soup.Nothing
could have prepared M. de Joie for this absolutely
incredible
dish. Sometimes you take a bite of an unfamiliar food and automatically file it in the "Top Ten Best Things I Ever Ate" section of your brain. Khao Soy moved right into that section. The complexity of flavors and seasonings was matched by the wide range of textures: soft tofu, crunchy bean sprouts, creamy coconut & curry broth, slightly firm noodles, the fresh topping of cilantro, scallions, and crispy-fried onion shards. This soup packs enough heat to make you sit up straight and take notice but not so much that you'll be coughing. And the
aroma
is one of the most mouth-watering smells ever concocted. This meal in a bowl is one of the very best dishes produced by any chef in Shasta County, not to mention being one of the very best values for money.
Appetizer - curry puff: won ton skins filled with curried potato and deep fried. Served with peanut sauce. $4.50. This would be a good appetizer to share, or to introduce a neophyte to Thai cooking slowly.
M. de Joie was so impressed by the food that she returned accompanied by adventurous eater and fine cook, Destra del Tamburo. Two main dishes, one iced coffee, one diet Pepsi - $20.48.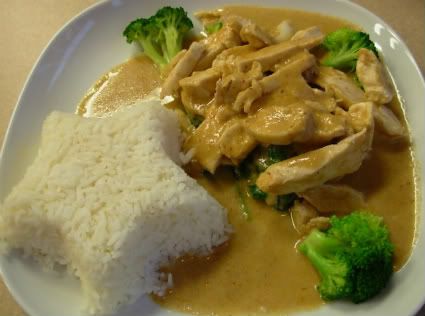 .
Peanut sauce chicken - white meat chicken with peanut sauce on a bed of spinach, broccoli and cabbage, $6.95. This is probably the mildest and lightest of dishes offered, a good item for people who aren't sure if they like Thai food or not.
.
.
Crispy basil prawns - stir-fried prawns with green beans, mushrooms, chili, garlic, and sweet basil, $7.95. This had a bit more kick, heat-wise, than the peanut sauce chicken. Perfectly cooked julienne vegetables with crisp prawns had a lively flavor from fresh basil and chilis.
.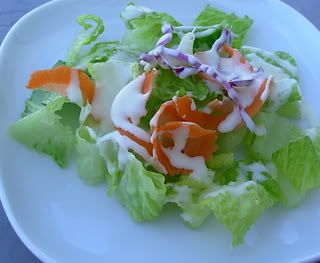 All meals are accompanied by this lightest of green salads with a slightly sweet creamy dressing.
.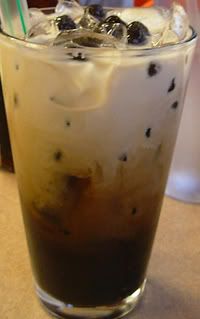 Pearl Thai Iced coffee, with "pearls" of tapioca - $2.50.
.
Both Racha Noodle and 5 Thais offer a condiment tray to go with your food. M. de Joie will be the first to admit she hasn't much experience with these enhancements to your meal, so she asked the waitress what these bottles contain. Clockwise from far right: Naam plaa (Thai fish sauce, in unmarked bottle), phrik dong (chile slices in vinegar), Sambal ulek (oelek), Sriracha (Rooster sauce), sugar, oyster sauce (in red ketchup squeeze bottle), soy sauce. They also offer phrik pon, finely ground chili powder. What do you use these condiments for? A very helpful but somewhat lengthy guide was found at
http://www.madammam.com/articles/tabletop.html
. M. de Joie suggests you put a very small amount of any condiment on the side of your plate and taste it, mixed in to a little of your dinner before adding a large amount, as some of them are quite hot.
5 Thais looks like a nondescript little lunch counter, but there's no hairnetted brassy waitress named Flo taking your order. Staff has a quiet dignity and pride in their restuarant and are eager to share their delightful cuisine. Portions are small-to-moderate but at the bargain prices, you can order several items and not break the bank. Highly recommended.
- Femme de Joie
5 Thais, 1003 Dana Drive, Suite A, Redding, CA 530-221-8929. Open Monday-Saturday, 11:30 AM to 3:00 PM, then 5:00 PM to 8:30 PM. Cash, no checks, no credit cards. No alcohol. On nice days there are tables outside. On-site parking.